Responsive Design: Explained
New trends in web design come and go; however, one approach is especially innovative and certainly here to stay: responsive design. Without getting into the technical nuts and bolts of this coding approach, responsive design has one very important job – to display a website in an optimal manner across different devices, platforms and screen sizes.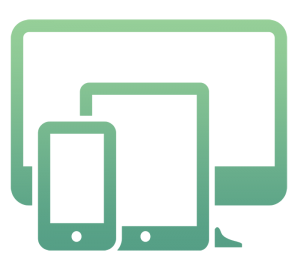 For example, when viewed on a mobile phone with a much smaller screen than that of a desktop computer, your web site will be automatically resize to fit on the screen. During this process, web site content will also be reformatted and reorganized as well. Unlike days past, responsive design eliminates the need for an entirely separate web site design specifically for mobile devices.
People want to be able to access a web site from wherever they are and using whatever device they have on hand. It is not uncommon for people to utilize their cell phones in order to decide on whether or not to eat at a certain restaurant, to find out whether or not a particular product is sold at a certain store, or to find information about other businesses in their area. The percentage of people shopping online using a mobile device has skyrocketed. Also, more than 50% of social media users browse sites using a mobile device.
In recent years, mobile devices have eclipsed desktop computers when it comes to browsing on the Internet. Smartphones especially are used constantly, and it would be advisable for any business to use this information when making the decision to create a new web site. A business will be able to attract more people when it is able to fit inside their pockets or in their hands.
People are more impressed by a business if it has a responsive website. A web site with an awkward or unusable appearance on mobile screens can quickly turn users away. Giving mobile users the most positive experience is a must. Responsive design has given businesses the opportunity to become more accessible and reach greater audiences than ever before.